One of the delights of writing historical fiction is the research.
Yes, really.
It can make the writing process that much longer, because for every line of text, I can spend an hour researching some little detail, like what cribbage boards looked like in 1800, or whether a certain word was in common use. But there is a particular joy to it as well. Besides getting the little details as accurate as I can, I enjoy the chase and I often become very interested in what I find. My sojourn into cribbage boards, for example, led me to some old books on card games. Another search had me reading old legal cases for hours, and yet another sent me down the rabbit hole of eighteenth-century cookbooks and recipes.
One of my more recent discoveries was the English-Australian composer Isaac Nathan. It started like this. I had a character who needed a scandal. And who, in 1814, was better to provide a scandal than that lord of scandals himself, George Gordon Lord Byron?
So I started doing a bit of reading. One of Byron's more famous collections of poetry is his Hebrew Melodies, published in 1815. The poems were written in response to a proposal by Nathan to set new poetry to what he claimed were ancient Hebrew tunes, dating back to the Temple. And thus, my introduction to Nathan and his works.
A very quick biography is as follows:
Isaac Nathan was a composer, singing teacher, musicologist, and journalist. He was proudly Jewish and never attempted to convert to the Church of England or to otherwise assimilate. He was born in 1790 or 91 in Canterbury, England. His father was a synagogue cantor, Menehem Monash, born in Poland, and his mother was English-born Mary Goldsmid. He showed great talent as a child and studied with London maestro Domenico Corri to learn singing and composition.
In 1813 he met Lady Caroline Lamb and composed music for a duet she had written. Through her, he met Lord Byron, and convinced the baron to write the poetry for the Hebrew Melodies.
Byron's famous poem "She walks in beauty" is from this collection. Here is Nathan's setting.
In 1812 he eloped with a student, Rosetta Worthington. Unusually for the time, converted to Judaism. She died in 1824, leaving Nathan with six young children. In 1826 he married his second wife, Henrietta Buckley, with whom he had six more children.
Nathan held the position of Music Librarian to George IV, and may have been involved in espionage for the king. Various troubles caught up with him and he found himself in a great deal of debt, and in 1840 emigrated to Australia with his whole family.
Nathan reached Sydney in April 1841 and immediately opened an academy of singing. He also became choirmaster of St Mary's Cathedral and organized the largest concert of sacred music yet heard in the colony. In May of 1847 his opera Don John of Austria was performed. It was the first opera to be wholly composed and produced in Australia.
He was also the first person to research and transcribe indigenous Australian music, and set to music some of Eliza Hamilton Dunlop. Here is Nathan's setting of her famous poem The Aboriginal Mother.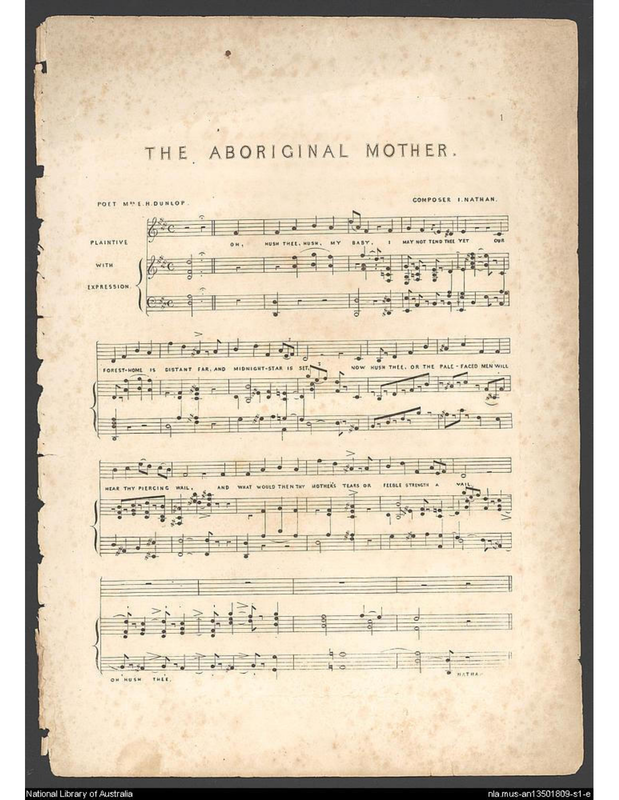 Nathan died on January 15, 1864, when he had an accident while alighting from a city horse-tram in Sydney.
The London Jewish Chronicle of 25 March 1864 reported from Sydney:
Mr. Nathan was a passenger by No. 2 tramway car […] [he] alighted from the car at the southern end, but before he got clear of the rails the car moved onwards […] he was thus whirled round by the sudden motion of the carriage and his body was brought under the front wheel.
The horse-drawn tram was the first in Sydney: Nathan was Australia's (indeed the southern hemisphere's) first tram fatality.


Here is a performance of the overture to Nathan's opera Don John of Austria.

https://www.youtube.com/watch?v=pcHy5WqCbpM